All in one pot and bursting with flavor, this AhhMazing Pressure Cooker Chicken Tortilla Soup will NOT let you down.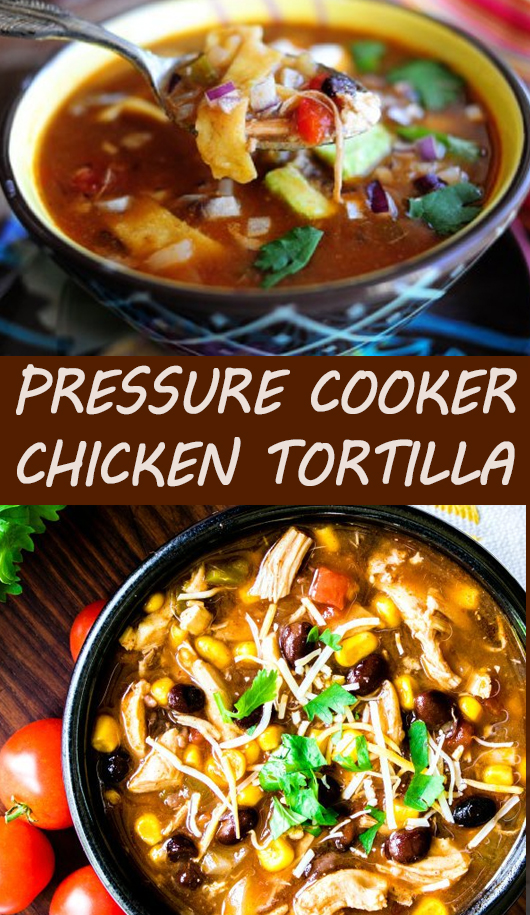 What would you say if I told you we ate this for 3 days straight? Lunch, dinner, lunch, dinner, lunch, dinner and we could have kept on going! It's just THAT good.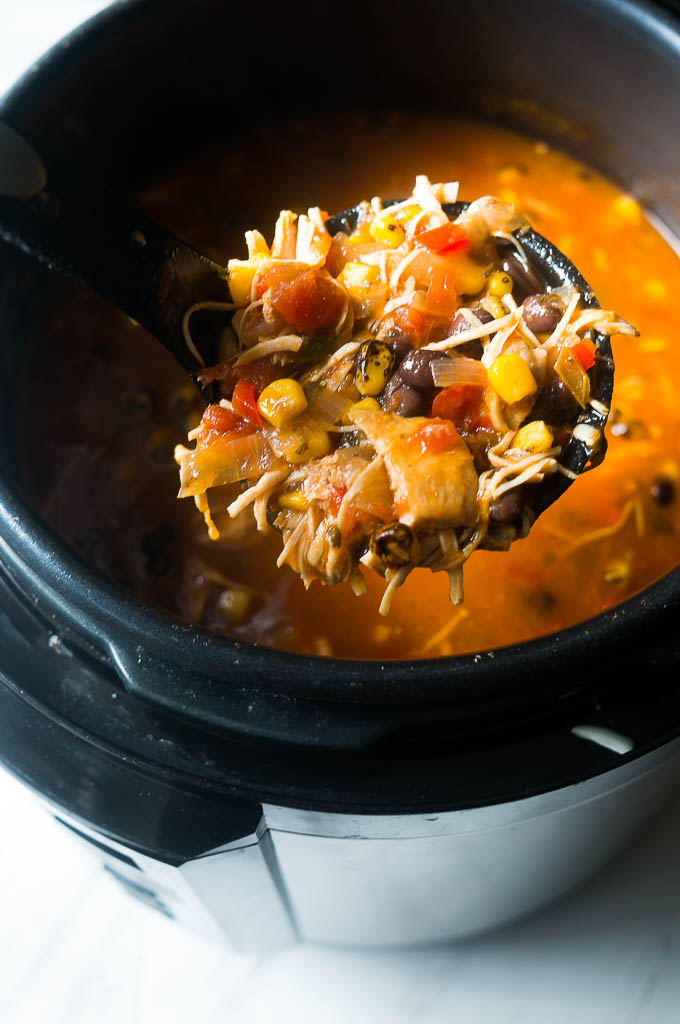 I've heard from a huge number of you that you got instant pots for Christmas and you're wanting to know what to make with them! There are many great resources floating around on the web with instant pot recipes and I know you're going to have a blast learning how to use your newest appliance. This recipe for Pressure Cooker Chicken Tortilla Soup is one of my all-time favorites and has yet to disappoint us OR a crowd of people.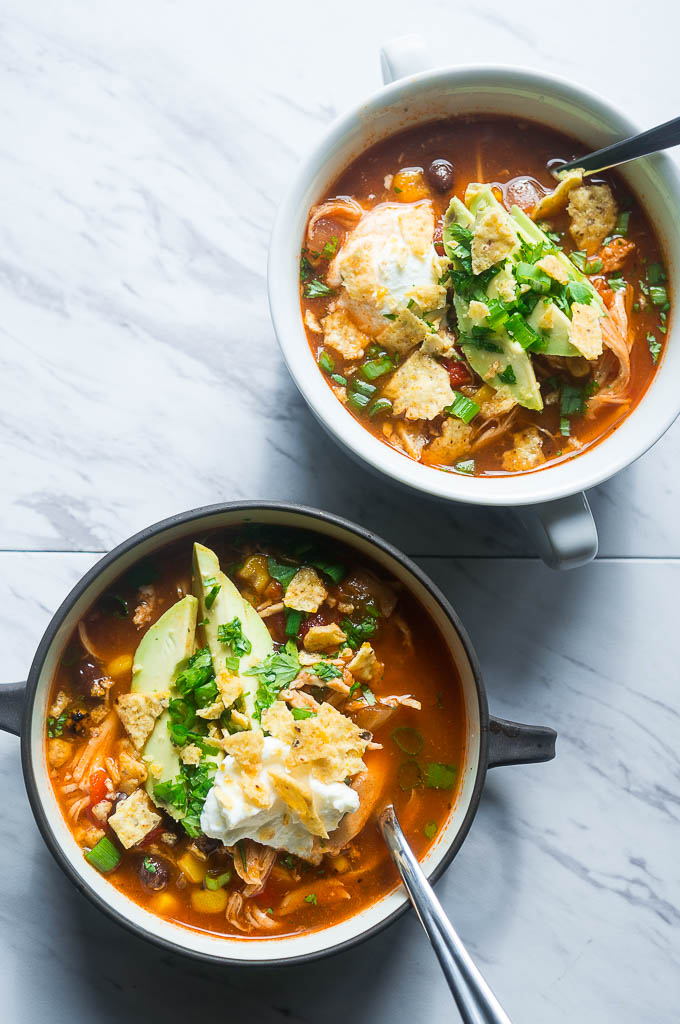 I don't think we can get much simpler than adding all but two ingredients to the pressure cooker, cooking for 10 minutes with a natural release, and then stirring in the corn and black beans. It's really that easy! The chicken shreds apart with the lightest touch and the rest of the ingredients all contribute to one great big amazing flavor.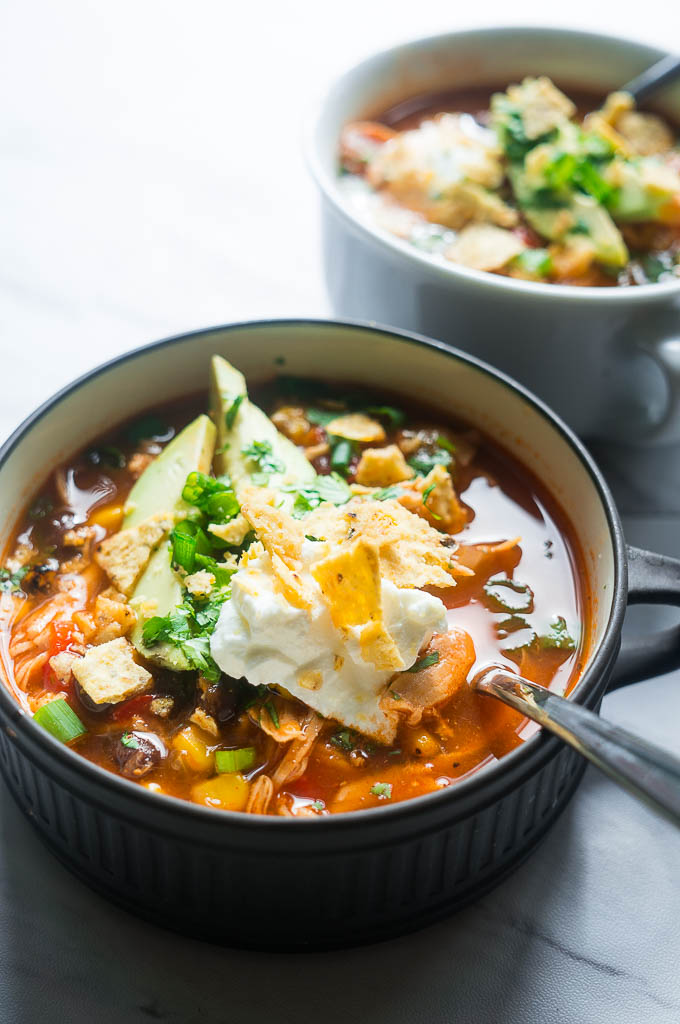 If you're overwhelmed by the idea of learning how to use your new pressure cooker, don't be scared!! This is the perfect entry recipe for you and I'm going to venture to say, FOOL-PROOF! You can do it! I have full faith.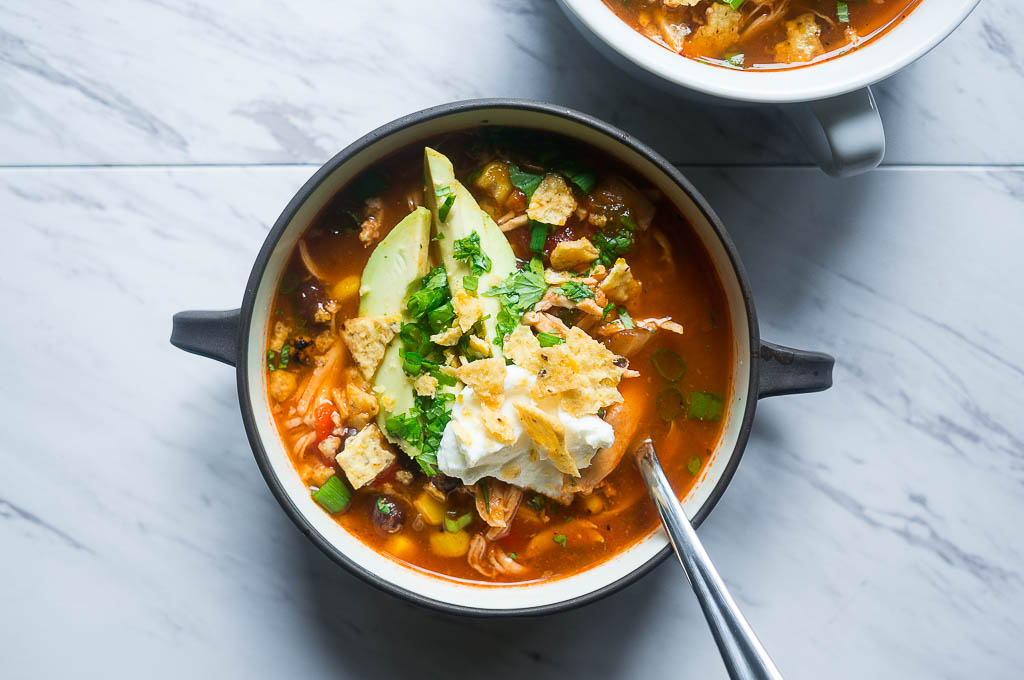 INGREDIENTS
2 Large Chicken Breasts
12 oz your favorite salsa
6 Cups Chicken Broth
1 onion, chopped
1 red bell pepper, diced
2 teaspoons cumin
1 tablespoon chili powder
2 teaspoons salt
1/2 teaspoon black pepper
1/8 teaspoon cayenne pepper
4 ounces tomato paste
1 15oz can black beans, drained and rinsed
2 cups frozen corn
Toppings
limes, sour cream or greek yogurt, cilantro, green onion, avocado, tortilla chips
---
INSTRUCTIONS
In pressure cooking pot, add chicken, salsa, chicken broth, onion, bell pepper, cumin, chili powder, salt, black pepper, cayenne pepper, and tomato paste. Stir together.
Lock lid and set to high pressure for 10 minutes.
When time is up, allow pressure to naturally release for 10 minutes and then use a quick release to get all the remaining pressure out.
Remove lid and shred chicken using two forks.
Set pressure cooker to "simmer" setting and add black beans and corn. Stir until corn is heated through.
Ladle into bowls and top with a squeeze of lime juice, a dollop of sour cream or greek yogurt, a few sprigs of cilantro, chopped green onion, chopped avocado, and crushed tortilla chips.
Source: kitschencat.com